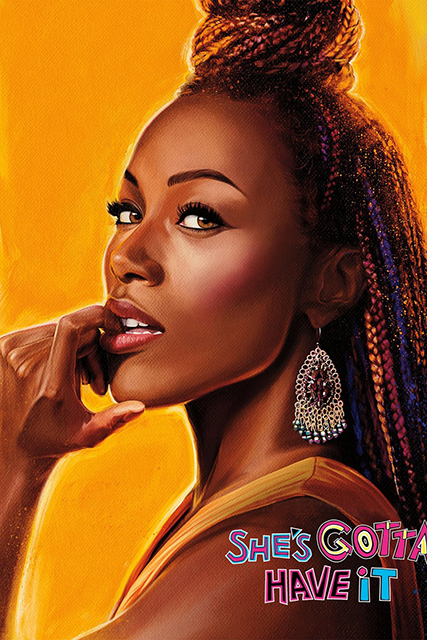 NETFLIX MAKES A MISSTEP CANCELING LEE'S 'GOTTA HAVE IT'
#TFRReport - Netflix Cancels She's Gotta Have It!
40 Acres and a Mule Filmworks | Spike Lee is shopping the show, for the 3rd-Season.
This un-development is a disappointment, and a poor decision on Netflix's part. Our #TFRPodcastLive Show. this weekend, was/and is still about the genius of Spike Lee flipping the time-line of 'She's Got To Have It' and 'Do The Right Thing', potentially making Mookie (Do The Right Thing) Mars' father (in She's Got To Have)!
Spike flipping the time-line, and story-line to make this possible-- my wife and I were waiting for Season 3. Heads at Netflix should reconsider their decision.
Not to mention, Spike has his hand on the pulse of America, with the discussions between ADOS and immigrant Blacks, and his masterful capture of sex/love/lust/redemption, where it concerns 'Darling' and her suitors, is at the right temperature.
The development of the next generation of children as players in parents' relationships, and the expansion of heartfelt scenes, in Season 2, captured the acting prowess of the actors involved in bringing Lee's Vision to Life. Heads at Netflix should reconsider their decision.
Tune-In this Sunday at 5:30pm for The Film Review Live: Movie Music Culture Politics Society Podcast on Crayzon Deeyon profile on Facebook, for our thoughts on the potential flip of time and story, and the push to make sure Season 3 is seen, heard, recognized and appreciated.
She's Gotta Have It - Stars DeWanda Wise, Anthony Ramos, Cleo Anthony, Lyriq Bent, Elvis Nolasco, Fat Joe, and a stellar cast.
--------------
Crazy Dee is An Independent Film Reviewer, who is Film Editor at Lordlandfilms.com.